If you are currently unsure on which products to buy, please call our customer support in order to find out which products you require to beat your current situation. All drugs can be completely cleaned from your body as long as you follow the correct procedures and order the correct products. If you are unsure what to order, or would like to place your order over the phone - please call us at:
(800) 727-7123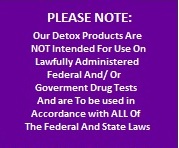 Urine Drug Testing Products
NEW! Test yourself with our 6-Panel Urine Drug Test!
A brand new product to drug test for marijuana (THC) & other drugs
Simple one-step drug test
Accurately detects five drug metabolites, including marijuana
Reliable results within minutes
Simultaneously tests for THC (marijuana), cocaine, methamphetamines, benzos, and opiates
Conforms to NIDA/SAMHSA approved guidelines
Extremely easy to use and very cost effective
You asked for an easy, affordable "upgrade" to the popular single panel and 5-panel marijuana THC home drug test kits, and delivered! The Six Panel Test Kit is a great product for detecting marijuana THC in urine, plus this kit will test for five other drug metabolites -- cocaine, methamphetamines / amphetamines, opiates, benzos, oxycodone and other types of opiod pain meds.